Sprenger Ultra Plus Prong Collars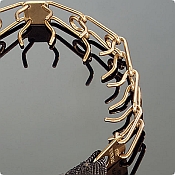 Curogan offers the double benefit of a corrosion free finish with very low reactivity for dogs with sensitive skin. Curogan is an alloy made with a very high copper content blended with tin and a number of metals to increase durability. It's non corrosive properties rival the performance of stainless steel, they remain one of the most popular choices in our premium range of collars.

The curogan collars contain no nickel therefore these chains reduce the possibility for the discolouration to the fur of light coloured dogs with a success rate between 90-95% discolouration free. Nickel can also be a cause of allergic reaction for dogs with sensitive skin, the properties of curogan have been developed through extensive research to mitigate the instances of reaction to metal collars.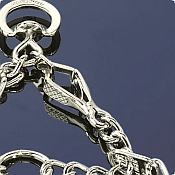 Polished chrome also features a double plated finish and is available in a wide variety of wire gauges to suit all dog sizes. The collars are first nickle plated for protection, then coated with a premium chrome which is then mirror polished.

These stunning collars with care look and perform flawlessly for many years. The polished chrome collars are a firm favourite when you're looking for something special while remaining sturdy and robust enough to be used every day.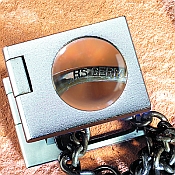 Satin Nickel is a double coated light gloss finish with a luxurious faintly golden tint. They are continually laboratory monitored and bend tested throughout manufacture to ensure finish is both durable and rugged.

The satin nickel prong collars remain amongst our most popular range offering exceptional value with hard wearing reliability.

These collars are an ideal all round performer in terms of quality and price.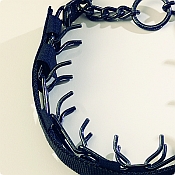 The collars are coloured to compliment darker fur and blend into the dogs coat, especially useful for dark coloured necks where the collar will be more discreet in either long or short fur. The collar can be further concealed with a nylon prong collar cover if required.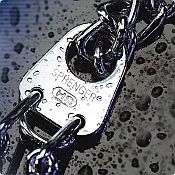 Stainless steel is a wonderful material and gives everything you would expect in terms of corrosion resistance and high tensile strength. While not as shiny as the mirror polished chrome collars, the stainless steel collars will retain their finish almost indefinitely if properly cared for.

Our stainless steel collars weigh less than all other prong collars yet are extremely strong, the 3.2mm gauge is easily capable of restraining a 150kg breaking load making them perfect for more powerful breeds. Their resistance to water damage makes them perfect for dogs who love to get wet, and dogs who work in a range of environments such as working dogs, gun dogs and guard dogs.

We supply our premium range of stainless steel collars with a variety of quick release fasteners.